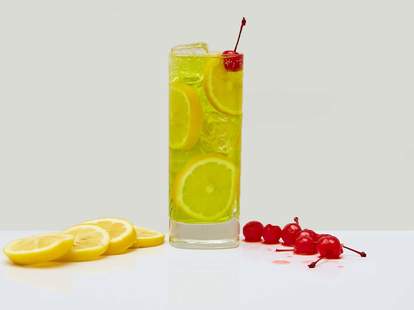 If you hear the words "island drink" you may think of a tropical tiki cocktail. But there's a line of drinks based off a different type of island that deserves some attention: those that are variations of the Long Island Iced Tea. The Tokyo Iced Tea is one of the better ones, and gets its general structure from the New York version while adding a bit of a Japanese twist. The secret is adding Midori, a muskmelon flavored liqueur that's highlighter green and doesn't look like something you should put in your body. But you should—especially for drinks like the Tokyo Iced Tea (the Midori Sour can't be the only bright green drink out there, after all).
Just because the Tokyo Iced Tea doesn't get the same level of Applebee's love as the Long Island Iced Tea doesn't mean you should count it out. The throw-it-all-in preparation style is the same, yet the drink itself is lighter and fruitier. Some recipes leave out the lemon, but it benefits from an extra dose of acidity to balance out all the sweetness going on. And it's not totally without mainstream appeal. Guy Fieri showcased his take on the Tokyo Iced Tea when he made a batched recipe on episode three of the second season of Guy's Big Bite. Just like Guy, this one's a people pleaser that'll appeal to the masses.
INGREDIENTS
.5 oz

Vodka

.5 oz

Gin

.5 oz

Blanco Tequila

.5 oz

Triple Sec

.5 oz

Midori

1 oz

Lemon Juice

lemon-lime soda, to top
INSTRUCTIONS
Step one
Shake everything but the lemon-lime soda and garnish in a shaker.
Contributed by Supercall